WHAT THE COMMUNITY OFFERS
THE LAKE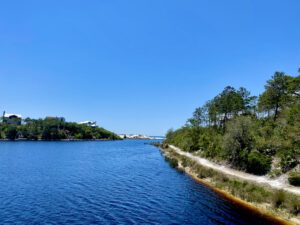 Draper Lake is a unique geographical feature, a coastal lake that shares a recurring connection with the Gulf, complementing the natural serenity of the majestic woods that wind their way through Draper Lake Coastal Village – setting it apart as a distinctive, gated community.
THE PARKS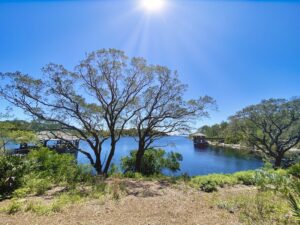 Sprinkled throughout Draper Lake Coastal Village, these green spaces allow residents to enjoy peaceful moments with family and friends.  Planned as part of the original development, they are another feature that provide solitude and tranquility only steps from the amenities of scenic 30A, Santa Rosa Beach and the surrounding communities in Walton County.
THE POOLS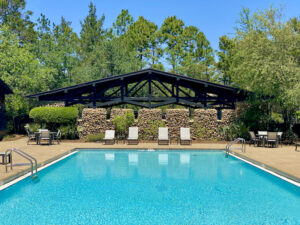 Two swimming pools, one in each peninsula of Draper Lake Coastal Village, provide enjoyment for residents who want to swim laps or simply enjoy the coolness of the water on a warm, sunny day.  Enclosed within gated, rustic wooden fences, covered pavilions allow families to enjoy their time and meet their neighbors.
THE BRIDGES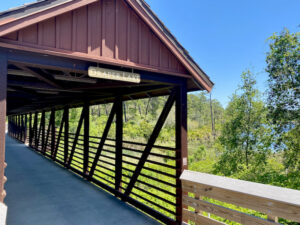 These natural wood bridges are the lifeline connecting the eastern and western peninsulas of Draper Lake Coastal Village.  They provide a relaxed pathway across the quiet waters of Draper Lake, connected via winding nature and hiking trails, set amidst the 100 feet of lake front property throughout the Village that is protected from development – allowing wildlife and residents to enjoy together.
THE TOWER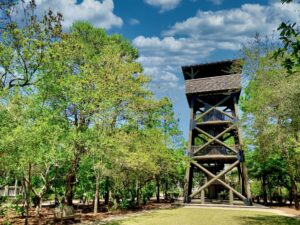 Soaring almost 50 feet into the gulf coast's blue sky, this unique wooden tower provides a panoramic view of Draper Lake, the Gulf and it's pristine, white sand that sits alongside as it fades into the distance, and the surrounding beauty along scenic 30A
THE BOAT HOUSES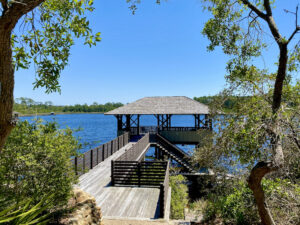 Two boat houses give residents the opportunity to store kayaks and paddleboards in a convenient and secure way at water's edge.  They also provide a setting for small gatherings – as the sun rises or sets – or to simply enjoy the warm breezes floating across Draper Lake.
THE PRIVATE BEACH CABANA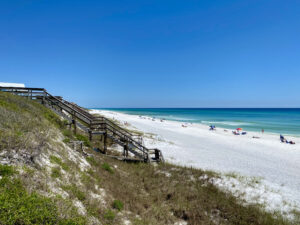 Draper Lake Coastal Village offers a perfect combination of gulf and lakefront living. Looking to spend a day at the beach? No problem. A short walk, bike ride, or car ride takes you to Gulfview Heights Regional Beach Access with the owner's private beach cabana just a block away. The owner's cabana has plenty of parking, restrooms, and a shower. Some neighbors even enjoy the back green space for family fun and a place to exercise their four-legged friends!
THE BUTTERFLY GARDEN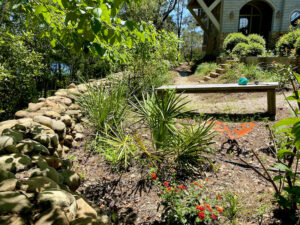 Located on the eastern peninsula of Draper Lake Coastal Village, you can enjoy a picnic lunch and photo opportunity on the green space overlooking the majestic views of Draper Lake and the Gulf of Mexico. This is a picture-perfect place to celebrate special occasions and family weddings. Lawn games can be enjoyed by the community and the garden serves as a perfect meeting place for owners to socialize. Early morning affords the opportunity to practice quiet meditation or yoga… and, on the lucky occasion, be joined by beautiful butterflies!
---
Draper Lake amenities include bridges, two boathouses, the observation tower and two swimming pools. Each pool has a gathering area with comfortable seating and a fireplace. The Draper Lake Coastal village neighborhood is a place where you can walk, boat, fish or swim. Pedestrian trails extend from the lake front to each of the two village greens located on the east and west peninsula. The Village Greens offer each peninsula a central public space that is a great location for gatherings. Additional public spaces are provided in smaller neighborhood greens. The east and west peninsulas are connected by a wooden pedestrian bridge from which you can enjoy the expanse of Draper Lake and the dunes beyond.
We love our unique 30A community and we know that you will as well. Please reach out to us with any questions or if you want any additional information about making Draper Lake your new home. Just use either button below to send us an email. Thanks for visiting and we look forward to hearing from you soon!
Copyright© 2021 DraperLake.com and Draper Lake HOA. All rights reserved. Listing and housing information is deemed reliable but is not guaranteed accurate.
Website Design by Youngblood On The Coast.